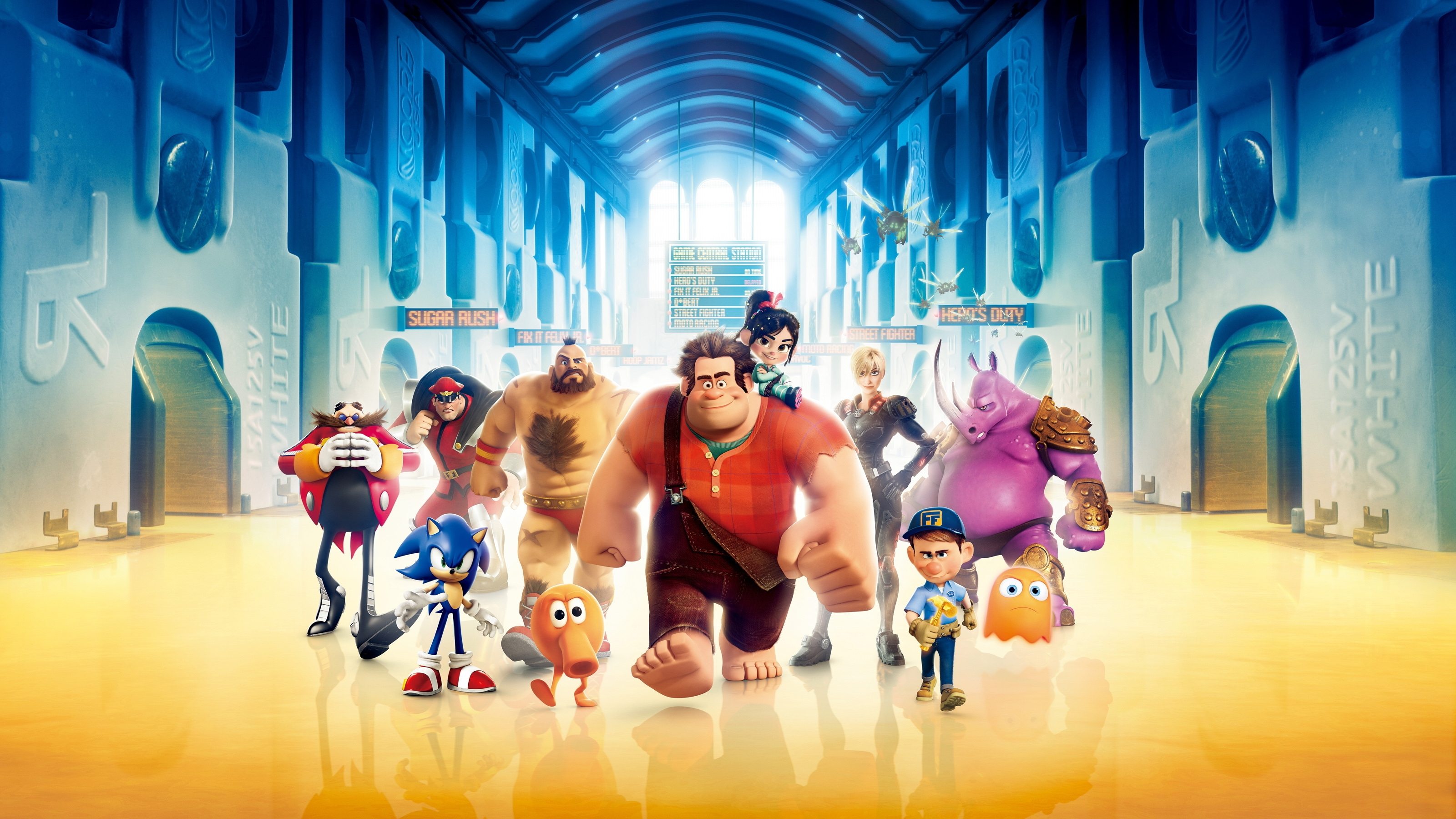 Wreck-It Ralph Movie Review
Wreck-It Ralph Movie Review Metadata
Wreck-It Ralph combines the elements of an engaging story, classic video game nostalgia, and great voice acting into one incredibly original film.
The most fun to be had is in the film's opening 45 minutes. A ride through thoughtful animation and classic story lines. Ralph's the lovable villain with a simple dilemma, he doesn't want to be the bad guy anymore. Support meetings where the likes of Bowser and Zangief are also in attendance, just don't seem to help Ralph cope with his feelings of not being accepted in his world. His world of course, the 8-bit video game "Fix-It Felix". This is where the animation really excels, beautifully rendered 3D (but still pixelated) worlds and the classic choppiness of character movement.
As the story progresses, Ralph finds himself in "Hero"s Duty", a modern day first-person shooter with detailed world renderings and buttery-smooth shoot 'em up action. In fact, the entire movie is a voyage through the progression of video games. A perfect blend of gaming nostalgia and originality. Ralph pays homage to "Q-bert" and "Pac-man", "Street Fighter" and "Call of Duty", even "Mario Kart".
John C. Reilly and Sarah Silverman are perfectly cast in their respective voice roles. They bicker, exchanging one-liners, but also form a believable, charming friendship in the process. The bulk of their work occurring in, and saving, the films sometimes deficient second act. The finale is rushed, but effectively ties everything together.
Ralph is the quintessential modern-day family film. A movie that combines exciting and engaging content with family friendly values. It's one of my new favorites and possibly a strong Oscar contender in the animated category.
Wreck-It Ralph (John C. Reilly) has grown jealous of never receiving the recognition he deserves as a valuable member of the arcade. Ralph is the "bad guy" in his video game world of "Fix-It Felix", therefor, he's the outcast.
In the video game world, medals are typically only rewarded to the "good guy", and those guys get all the respect. Ralph believes he can shed his negative mantra if he can obtain his own medal, so in an attempt to earn the respect of his fellow bitizens, Ralph decides to go game-hopping.
Ralph finds his medal in the first-person shooter "Hero's Duty", a game lead by Sergeant Calhoun (Jane Lynch) on a planet overrun with bugs. Ralph's continued misadventures eventually land him in "Sugar Rush", a sugar-infused racing game where he's loses his medal. He meets Vanellope von Schweetz (Sarah Silverman), an outcast in her world because she's a "glitch", a mistake in programming. She's solen Ralph's medal to enter the big race.
Together, Vanellope and Ralph team up to regain Ralph's medal and return Vanellope to the racing elite of her game. Meanwhile, Fix-It Felix (Jack McBrayer) and Calhoun have teamed up to eliminate an escaped bug that's found its way into "Sugar Rush". The bug could potentially wipe out the entire game, essentially killing everyone in it, including Ralph and Vanellope. It's a race to eliminate the growing threat and ensure a safe trip home.

Get 20% off $25 in movie tickets when you use your Visa Signature card.
Wreck-It Ralph
is streaming now on the following services: