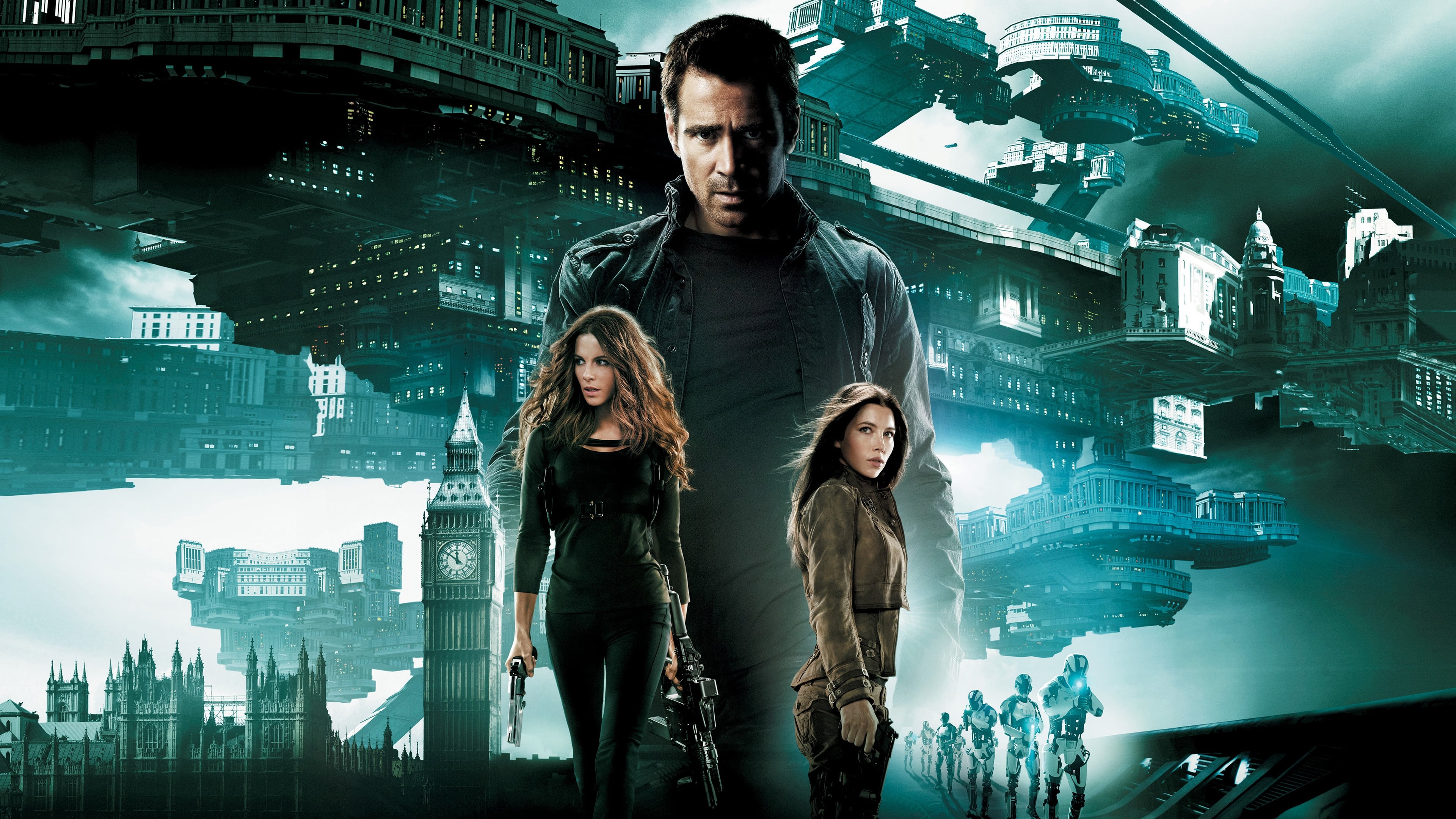 Total Recall Movie Review
Total Recall Movie Review Metadata
Not exactly satisfied with life and haunted by memories of his past, Dennis Quaid seeks out the artificial memory mind-trip company, Rekall. A memory-implant procedure goes terribly wrong and Quaid quickly finds himself on the run from authorities and with "skills" he's never had… or has he?
The world of Total Recall exists in a dystopian future where the planet has been destroyed by world-wide chemical warfare, World War III. Two inhabitable continents remain, the FBR (Federation of the British Republic) and New Shanghai, the former controlled by the leader of FBR special forces, Vilos Cohaagen (Bryan Cranston). While on the surface, Cohaagen is set on eliminating the growing threat of global terrorists, but as it turns out, he may be using the revolt to grow his own army to gain control of New Shanghai.
Paul Verhoeven's Total Recall placed emphasis on the mind bending effects of memory replacement, sorely missed in this new take on the Philip K. Dick short story, "We Can Remember it for You Wholesale". No martians, no R-rated blood and violence. Total Recall (2012), directed by Len Wiseman (Underworld, Live Free or Die Hard) focuses on the "bang" and politics of a war torn world.
Total Recall is not short on the "wow" factor in terms of CGI rich environments, big time action, and explosive sound effects. The two continents, each with their own distinct architecture, are beautifully realized in CGI. Flying car chases, battles with robotic soldiers, exciting fight sequences, and a pretty cool trip through the Earth's core are all present. Perhaps the most exciting similarities between the two films are the addition of the three boob hooker, and a slight tribute to the disguised Customs infiltration.
There are a few exclusions from the cult classic original that are not forgivable. The blazingly obvious miss would have to be the film's use of memory recall. It simply isn't used. Second, no martian resistance. You can forgive the exclusion of Mars, but the resistance (Kuato in particular) are not much of a factor in this outing.
Total Recall took a bold step in re-envisioning the Verhoeven classic. It does many things well, that being the high level of action sequences and special effects. It is a roller coaster ride of all those great things the summer movie experience is all about. But Recall lacks in its spirit and heart of the former film. This doesn't make it a bad movie, just not as good.
So why remake Total Recall at all? I say, why not try? Why not freshen up a cult classic and introduce it to a new generation of movie goers? Some say Hollywood is all out of ideas, maybe so. But, the Recall franchise is a great take on the story archetype of two entities vying for power in a war-torn, post-apocalyptic world – and everything riding on the heroics of a single individual. Mix that with a mind trip and mutilated martians and you have a great flick. Unfortunately, the latter is missing, but this film still spits out a great time in the theater.
While not as plot engaging as the Schwarzenegger/Verhoeven version, Total Recall (2012) still packs enough action and big bangs to at least make it a fun ride. Go see it.
Total Recall
is streaming now on the following services: