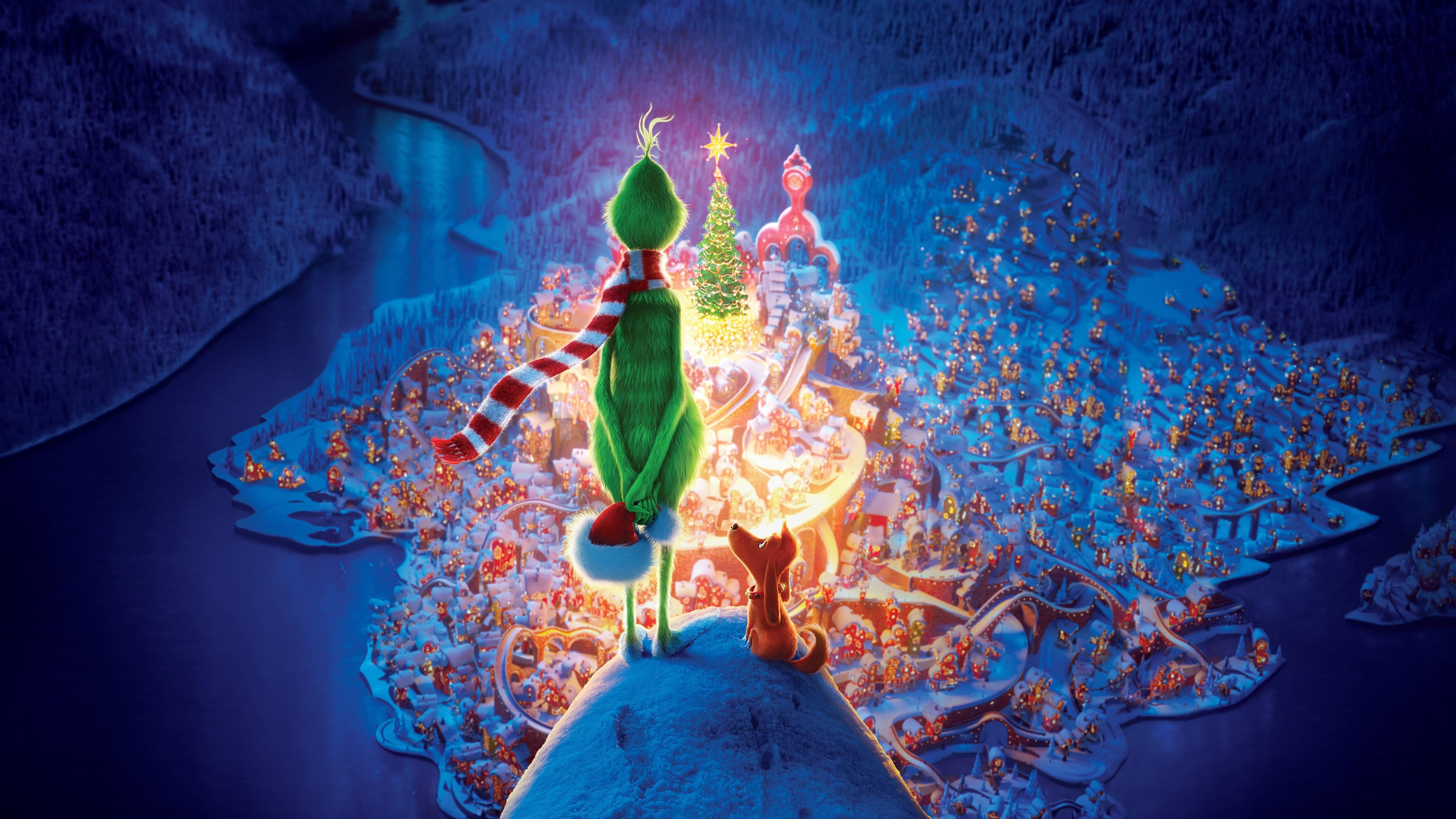 The Grinch Movie Review
The Grinch Movie Review Metadata
I didn't see Jim Carrey's How the Grinch Stole Christmas (2000) and I didn't want to. There is something about any Dr. Seuss creation being flesh and blood that is disturbing on a visceral level. Illumination's incredible animation blurs that line between live action and reality and while everything looks soft and touchable, there's enough whimsy to eliminate the creep factor.
The Grinch (Benedict Cumberbatch) lives high above Whoville as the town's hermit. He goes into town only when he has to and really while a not a nice guy, he's not cruel. He's lonely and he's resentful, and he's a jerk, but he's not sadistic. Grinch's best friend is his dog Max, and he tells Max everything. Max, in turn, tries to make his life as comfortable possible, and their affection is genuine. Max would never betray Grinch. Even when Grinch is cross with Max – he apologizes. I'm still stunned by that.
Meanwhile in Whoville Cindy Lou Who (Cameron Seely) is trying very hard to meet Santa Claus because she has a very special favor to ask. Donna Lou Who (Rashida Jones) is a hard working single mom of three and Cindy Lou wants her to feel special and appreciated. She has a plan to stay up late on Christmas to tell Santa and help her mom.
New to this story is Grinch's "best friend"( whether he wants one or not) in the form of completely polar opposite Bricklebaum (Kenan Thompson), the epitome of good cheer and eternal optimism. It's cute and it's grating. The Grinch has very real feels of abandonment that haven't been addressed and he deeply resents the holiday season. When Bricklebaum's display Christmas Display is three times larger this year, Grinch knows he needs to put a stop to that nonsense once and for all.
This is the basic story of The Grinch – grumpy man (we learn he's 57!) tries to ruin Christmas and when he fails, he makes it right. We watch the annual How The Grinch Stole Christmas! (CBS, 1966) every year so none of this is new, except expanded to 90 minutes and aimed directly at families. Everything about this is relatable, especially the Grinch. I personally hate the people, so I found a measure of joy in his pettiness. Donna Lou's perpetual tiredness is reflected as well as her struggle to keep her brave happy face for her family. Everyone can watch The Grinch and see something that clicks, without the creepy human/CGI factor that tickles the brain the wrong way.
Illumination, best known for its Despicable Me (2010) franchise and Minions (2015), continues to astound with their visual graphics. Everything looks touchable or cold or sharp – it looks real in an unreal way. Every time there was a close up of the Whos' faces I could only marvel at how pettable they looked. It's horrible, and yet I wanted three of them. It's visually engaging, which enhances what could be an otherwise tired story.
Danny Elfman does the score and you know it's Danny Elfman because everything Danny Elfman does sounds like Danny Elfman. It's not good or bad, it simply is. That's all I have to say about that.
At 90 minutes it may be a touch too long for wee littles, but anyone over 8 can sit through this movie and be taken in by the colors and the action. As someone who doesn't even have kids, I found it engaging and charming and extremely touching. I can't see any reason why you wouldn't want to take your family to this for the annual post-Thanksgiving movie.
But taking them this weekend would be great, too.
The Grinch (2018) is rated PG for Grinch pettiness, pretty intense action scenes. Your kids may want a Max for their own.
The Grinch
is streaming now on the following services: