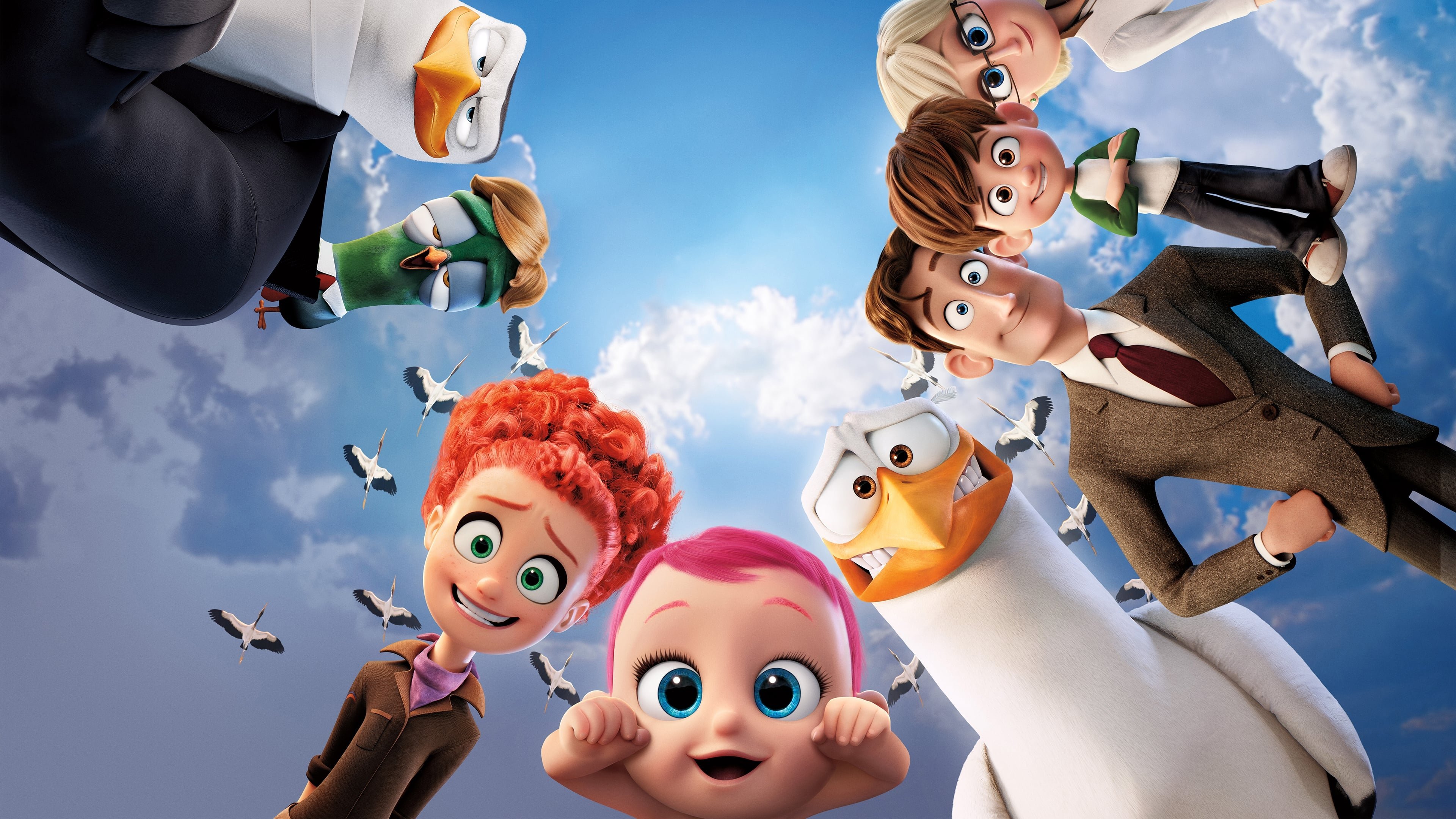 Storks Movie Review
Storks Movie Review Metadata
Did you have that awkward conversation with your parents? Have your kids had it with you? You know, the question that every parent dreads, semi-plans for and later exchanges war stories with other parents about? "Where do babies come from?" Worry no longer, parents, Storks is here to explain it all!
Packages fly out of Cornerstore, an Amazon-like big-box company that has been run by storks ever since it was decided that the baby delivery business was entirely too risky, messy and unprofitable. It's very efficient and the sunny motto "Always deliver!" rings from every corner. Even "Orphan Tulip," the one baby that the company failed to deliver eighteen years prior, has a job to do (kinda).
Junior (Andy Samberg, Saturday Night Live, Hotel Transylvania 2 (2015)) is the shining star and heir-apparent of this enterprise, his last task before assuming the mantle of BOSS being to fire the luckless Tulip (Katie Crown, Clarence, Adventure Time) whose mere presence tends to make the company's stock plummet. Despite his ambition, Junior can't do it, and instead tucks ditzy Tulip away in what turns out to be the old Baby Factory. When Tulip accidentally reactivates the Baby Maker based on a letter from single-child Nate (Anton Starkman, American Horror Story, Sox (2013)), Cornerstore's first baby in years pops out of the machine. It's left to Junior (whose wing is broken after a tussle with the Baby Maker) and Tulip to deliver the baby to Nate's family before the head honcho finds out.
Storks is the perfect movie for the couple that wants a date night movie, but wasn't able to book a babysitter. The kids will enjoy the cartoon antics and sassy backtalk while Mom and Dad get their laughs at the adult jokes and parallels to real life. The Cornerstore warehouse is essentially an animated Office Space (1999), Junior and Tulip's struggle to balance sleep deprivation and sanity is right on key and the acknowledgement that "family" now has many different definitions keeps the movie from veering into saccharine territory. Keegan-Michael Key (Mack and Moxy, Archer) and Jordan Peele (Keanu (2016), Bob's Burgers) head up a wolf pack that has the tenacity of a Terminator and the versatility of a Transformer in their determination to possess the pink-haired Tiny Thing. Fans of Nicholas Stoller (Neighbors (2014), Get Him to the Greek (2010), Forgetting Sarah Marshall (2008)) will enjoy the spontaneity that was reportedly encouraged in the voice-over sessions. All in all, although the kids were entertained, I think the adults in the theater got the most out of this movie.
The film's only sour note is when it insists that Tulip (and all of womankind throughout history, evidently) must automatically dissolve into an OMG BAAAAAAAAAYBY! mush-slash-supermommy role when confronted with a baby's wide eyes, whereas Junior is allowed to brush off his susceptibility to the cuteness by stepping back into a tough-guy persona. Well, as tough as a stork with a bum wing can be, but it's a questionable stereotype to include in a film that validates families coming in all forms, not just traditional versions.
The film is rated PG, but all adult humor is non-bawdy (the dirtiest reference to how one could acquire a younger sibling is when Nate's parents crack up uncontrollably at his inquiries) and any violence or implied danger is cushioned by the cartoonish aspect, so this is a safe film to take the kids to. Just be prepared for the inevitable questions from them after the movie…"So is that where babies really come from?" Answer with caution, because Storks makes a pretty convincing argument that Amazon.com just might be delivering babies next.
Storks
is streaming now on the following services: